The same teams met this year again in the gold medal game at the 2004 IIHF World Hockey Championship. The gold medal belongs to Canda and Sweden returns home with a silver medal.
Even though Sweden was leading by two goals they lost the game 3:5. Not even NHL stars like Forsberg and Lindstrom, who came to help Sweden in the semifinal didn't lead the team to victory. Together eighteen players remeber the last years' final game: eight Canadian players and ten Sweds. Last year the game proceeded into the over time in which Canada won. This year Canadian players won in regular time 5:3.
The final game was similar to the semifinal game through the eyes of the Swedish team, in third minute was Morrow penalised and Sweds scored their first goal. Tarnstrom shoted from the blue line and deflected puck hit Hoglund right under the beam. Sweds played well, mainly the first line consisting of captain Jonsson and two NHL stars Forsberg and Alfredsson. Jonsson was not lucky enough to score, goalie Luongo was prepared to cover both of his shots.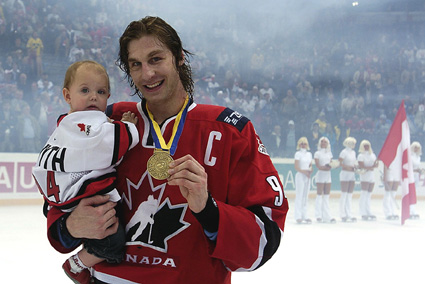 Canadians were under Swedish pressure at the beginning but thatnks to their simple tape to tape play they managed to screate scoring chances. Murray's and Morrow's shots were no problem to Swedish goalie Lundqvist. On the side of the rink Forsberg's smart pass was recepted by Alfredsson who shot hard right next to the goal post and Luongo was unable to reach it and Sweden was leading 2:0.
The Sazka Arena was full but there was not an athmosphere that you would expect on the gold medal game. Yellow Swedish jersays were in majority but diffused group of Swedes were almost silent. But Canada didn't give up and before the end of the period they were able to score a goal thanks to Ryan Smyth who penalized Swedes for Tarnstrom's mistake.
Great hockey, worth the gold medal game, was played in the Sazka Arena. After five minutes played in the second period Briere only hit a gola post and from the counter attack Salomonsson didn't repeat Briers mistake and Sweden was leading 3:1. Sweds felt confortable with their leading but Canadians didn't give up and showed how strong team they are. Within 52 seconds Canada tied the game. First Bouwmeester scored on Lundqvist and then Nylander hit the puck into his own net when he was trying to clear Rob Niedermayer's shot.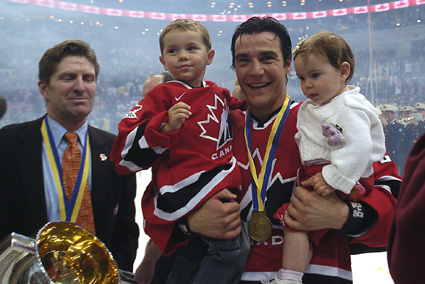 Canada came outr strong at the beginnig of the third period. After 20 seconds played Heatley beautifully found Bouwmeester abd he passed the puck between Lundqvist's legs. The Sweds were shocked but had a chance to get back to game thanks to a power play. But Luongo was great and Swedish top scorers were not able to but the puck behind his back.
On the other hand Canadians from on of the few counter attacks scored fith goal. Horcoff carried the puck to the offensive zone and passed the puck to Rob Niedermayer who found Cooke who was standing alone infront of Lundqvist. Sweds were trying hard to get back in the game, they put all their effort into the offense but just were not able to score from their chances. Two and a half minute before the end to the third period coach Nillson called up the goalie but not even the long power play halped the sweds. Canada won the Championship again.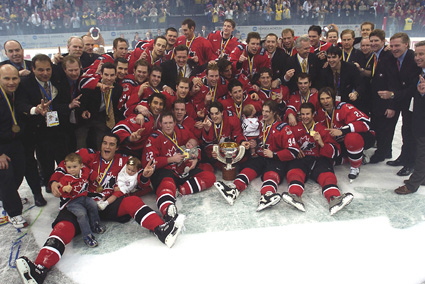 Sweden - Canada 3:5 (2:1, 1:2, 0:2). Goals and assists: 3. Höglund (Tärnström), 8. Alfredsson (Hallberg), 25. Salomonsson (Höglund, Nylander) - 14. Smyth (Morrison), 35. Heatley (S. Niedermayer, Bouwmeester), 36. R. Niedermayer (Horcoff), 41. Bouwmeester (Heatley), 51. Cooke (R. Niedermayer, Horcoff). Referees: Henriksson - Kautto (oba Fin.), Blümel (ČR). Penalties: 3:5. PPG: 1:0. Spectators: 17 360.
Sweden: Lundqvist - Hävelid, Tärnström, D. Tjärnqvist, Bäckman, Hallberg, Lidström - Hedström, Pahlsson, Salomonsson - Alfredsson, J. Jönsson, Forsberg - Höglund, Nylander, Axelsson - N. Andersson, A. Johansson, M. Tjärnqvist. Coach: Hardy Nilsson.
Canada: Luongo - S. Niedermayer, Bouwmeester, Staios, Brewer, Morris, Schultz, Mitchell - Smyth, Horcoff, R. Niedermayer - G. Murray, Morrison, Cooke - Dumont, Bergeron, Friesen - Heatley, Briere, Morrow - J. Williams. Coach: Mike Babcock.