HISTORY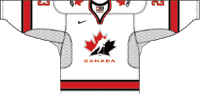 Canada is considered to be the birthplace of ice hockey. Nobody doubts that hockey really began there but it hasn't been determined when, or where, it exactly happened. Montreal, Halifax, and Kingston all claim to be the first places where hockey was played. The first official organization of hockey clubs in Canada – the Ontario Hockey Association – was founded on 27 November 1890 and within the International Ice Hockey Federation (IIHF) the Canadian Amateur Hockey Association represented the country until 1994. The CAHA was founded on 4 December 1914 and became a member of the IIHF on 26 April 1920. In that year, Canada celebrated its first gold at the World Championship.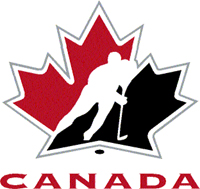 For many years, Canada was represented by the winner of the national amateur competition the Allan Cup, for example, the Trail Smoke Eaters took gold at the World Championship in 1961. After a lack of success in the mid-sixties, there appeared one of the most interesting characters in Canadian hockey history – the Catholic priest, David Bauer. His idea was to build a Canadian team from the best players taken from amateur clubs and the resulting teams won three bronze medals at the World Championship from 1966-1968. Bauer's team also won the Olympic bronze in Grenoble in 1968.
Professional players have been attending the World Championship since 1977. The Canadian national team won bronze one year later and in 1982, 1983, and 1986 as well. A better result came in the years 1985, 1989 and 1991 when Canada came in second and in 1994, 1997, and 2003 when Canada finally struck gold again. The only honour that Canada has never achieved is the opportunity to organize a World Championship on its home turf. In 1967, the organizing of the 1970 World Championship was awarded to Canada by the IIHF Congress, but Canada then later waived it on behalf of Stockholm.
The Olympic Games have always been very special for Canada who dominated there first few years. After a drought in the 70's and 80's Canada has found its way back to the top. Success didn't come in 1998 in Nagano because of a loss in the semi-final match-up with the fine Czech squad and their unbeatable Dominik Hasek, but they lost to Finland as well in the game for the bronze medal. The Canadians though, led by their legendary captain Mario Lemieux, hit Olympic gold after a long fifty years in a dream final against the United States four years later in Salt Lake City.
There have been no sticky questions about who is a professional and who an amateur for a while now, and both amateurs and professionals meet regularly at the World Championship. It cannot be said that Canada always sends its best players but it is always a force to be reckoned with nonetheless. Canadian strength is demonstrated also in the World Junior category where the U20 team celebrated gold seven times, silver three times, and bronze twice from 1990-2003.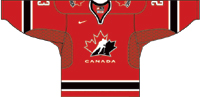 WEB SITE
www.canadianhockey.ca
STATS
You can find the results and the calendar of 2003/04 season HERE
MEDALS
World Championships
Gold: 22 – 1920, 1924, 1928, 1930, 1931, 1932, 1934, 1935, 1937, 1938, 1939, 1948, 1950, 1951, 1952, 1955, 1958, 1959, 1961, 1994, 1997, 2003.
Silver: 10 – 1933, 1936, 1949, 1954, 1960, 1962, 1985, 1989, 1991, 1996.
Bronze: 9 – 1956, 1966, 1967, 1968, 1978, 1982, 1983, 1986, 1995.
Olympic Games
Gold: 7 – 1920 Antwerp, 1924 Chamonix, 1928 St. Moritz, 1932 Lake Placid, 1948 St. Moritz, 1952 Oslo, 2002 Salt Lake City.
Silver: 4 – 1936 Garmisch-Partenkirchen, 1960 Squaw Valley, 1992 Albertville, 1994 Lillehammer.
Bronze: 2 – 1956 Cortina d'Ampezzo, 1968 Grenoble.
PLAYERS
Top stars: Wayne Gretzky, Mario Lemieux, Bobby Orr, Gordie Howe, Steve Yzerman.
World Champions 2003 – Finland (Helsinky, Turku, Tampere)
Goalies: Sean Burke, Roberto Luongo, Martin Biron.
Defense: Eric Brewer, Jay Bouwmeester, Jamie Heward, Mathieu Dandenault, Cory Cross, Steve Staios, Craig Rivet.
Forwards: Dany Heatley, Daniel Briere, Shawn Horcoff, Patrick Marleau, Kyle Calder, Anson Carter, Kirk Maltby, Shane Doan, Jan Alston, Steven Reinprecht, Kris Draper, Krys Kolanos, Mike Comrie, Ryan Smyth.
Head Coach: Andy Murray.