HISTORY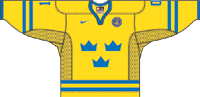 Since its inception, Swedish hockey has developed the fastest in all of Scandinavia. The Swedish Ice Hockey Federation was founded on 17 November 1922 which is seven years before its neighbour and great rival Finland. And even two years before that, Sweden had become a member of the International Ice Hockey Federation of the time – the LIHG. In those days, hockey players belonged to the Swedish Football Association and so they began their hockey careers, perhaps curiously, as footballers. Hockey in Sweden really took off at the beginning of the 1920's when the American businessman Raul La Mata persuaded hockey officials to try playing hockey with a puck as well as with a ball. It was a great idea because the Swedes soon experienced their first huge successes.
Sweden's first official international game was played on 23 April 1920 at the Winter Olympic Games in Antwerp where they defeated Belgium 8-0 on its home rink. Eight years later, the Swedish team won two medals – silver at the Olympic Games in St. Moritz and bronze at the European Championship. The first man-made ice surface in Sweden was built in Stockholm in 1931, but paradoxically from that time the growth of Swedish hockey stalled.
Success only came again after a long twenty years. After World War II, in 1947, the Swedish team was widely expected to win gold in Prague but after a surprising loss with Austria, Czechoslovakia celebrated its first-ever World Championship instead. The premiere gold for Sweden had to wait until the World Championship in 1953, but the Soviet Union and Czechoslovakia did not finish the tournament because of the deaths of the two biggest Communist leaders of their respective countries, Josef Stalin and Klement Gottwald. But the Swedish team, led by coach Sven Tumba Johansson, struck gold again four years later.
Since the 1950's, Sweden has been one of the world's top hockey teams. From 1963 to 1981 it was clear to everybody that the medals from the World Championships would be divided between the teams from the Soviet Union, Sweden, and Czechoslovakia, with only the bronze medal going to Canada on four occasions. But the Swedish team never took a gold medal home during all that time.
The next strong generation of Swedish hockey players arose during the 1980's and 1990's when the three-crowned jersey was worn by the goalie Lindmark and the forwards Hakan Loob, Jonas Bergqvist, Thomas Rundqvist, Bengt-Ake Gustavsson among many, many other stars. There was also a great triumph at the Olympic Games in Lillehammer in 1994, celebrated by plenty of Swedish fans who had travelled to neighbouring Norway. They will never forget the deciding moment of the tournament when Peter Forsberg deked Canadian goalie Cory Hirsch, scoring on a breath-taking penalty shot.
Swedish hockey is played at a very high level. Every year many Swedish players leave for overseas where they are among the best. Peter Forsberg finished first in the NHL in scoring this season, while his compatriot Markus Naslund finished second!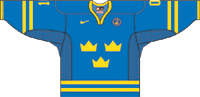 WEB SITE
www.swehockey.se (Official Web site of the Swedish Ice Hockey Federation)
STATS
You can find the results and the calendar of 2003/04 season HERE
MEDALS
World Championships
Gold: 7 – 1953, 1957, 1962, 1987, 1991, 1992, 1998.
Silver: 16 – 1928, 1947, 1951, 1963, 1964, 1967, 1969, 1970, 1973, 1977, 1981, 1986, 1990, 1993, 1995, 1997.
Bronze: 14 – 1952, 1954, 1958, 1965, 1971, 1972, 1974, 1975, 1976, 1979, 1994, 1999, 2001, 2002
Olympic Games
Gold: 1 – 1994 Lillehammer.
Silver: 2 – 1928 St. Moritz, 1964 Innsbruck.
Bronze: 4 – 1952 Oslo, 1980 Lake Placid, 1984 Sarajevo, 1988 Calgary.
PLAYERS
Top stars: Sven Tumba Johansson, Nisse Nilsson, Ulf Sterner, Ronald Pettersson, Tord Lundström, Mats Ahlberg, Leif Holmqvist, Göran Högösta, Lars Eric Lundvall, Mats Sundin, Michael Nylander, Peter Forsberg, Mats Näslund
Best NHL players, 2002-2003
Peter Forsberg (Colorado Avalanche) – regular season points leader, 75 games, 29 goals, 77 assists, 106 points.
Markus Näslund (Vancouver Canucks) – second place regular season points, 82 games, 48 goals, 56 assists, 104 points.
Daniel Alfredsson (Ottawa Senators) – 78 games, 27 goals, 52 assists, 79 points.
1998 World Champions
Goalies: Tommy Salo, Johan Hedberg.
Defense: Mattias Őhlund, Christer Olsson, Johan Tornberg, Niclas Hävelid, Kim Johnsson, Hans Jonsson, Jan Mertzig, Mattias Norström.
Forwards: Peter Forsberg, Mats Sundin, Mikael Renberg, Mikael Johansson, Ulf Dahlén, Frederik Modin, Patric Kjellberg, Niklas Sundström, Jörgen Jönsson, Jonas Bergqvist, Anders Huusko, Peter Nordström, Nichlas Falk, Tommy Westlund.
HOW THEY ARE SEEN BY…
Martin Hostak, former forward for MoDo, Södertälje, and Lulea: "Hockey was a number one sport for many long years but lately it has seemed to lose a bit of its popularity. Probably the successful performance of the Swedish football team at the World Cup could be one reason. Many top players left for NHL before the start of the last season and the Swedish elite league became less attractive. This year the situation is much better. Swedes can play hockey very well, they are excellent skaters and could be teachers of discipline and defensive skills. They are able to understand tactics and their coaches' advice and they know how to control themselves with their coaches and the referees. Hopefully, this could be the right path for Swedish hockey."