HISTORY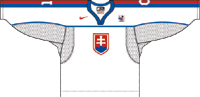 The first hockey club on the territory of Slovakia, CsSK Kosice, was actually founded by the former Czech players Fleischmann, Rezac, and Broz in 1920, and then clubs quickly followed in Bratislava, Banska Bystrica, and Zilina. The Czechoslovak Ice Hockey Federation managed all domestic competition – but Slovak clubs didn't have much success for a long time. In the 1940's there were only 34 clubs registered in Slovakia compared to about one thousand in the Czech lands. The 1925 European Championship though was held in the High Tatras and interest in hockey began to rise. Over the following three seasons, hockey appeared in Presov, Nitra, Trnava, and the High Tatras. A Slovak association of Canadian hockey was established on 31 December 1929 and this institution organized an independent Slovak league from 1938-1944 which was played on the first rink opened in Bratislava in 1940.
After World War II, Slovakia united with the Czech lands once again and played in a common domestic league. The first year of the league, four teams from Slovakia took part – VS Bratislava, SK Bratislava, SK Banska Bystrica, and HC Tatry. The Czechs and Slovaks played in a common first and second league until 1963, when the second league was separated into two divisions. Slovak clubs became Czechoslovak league champions several times, i.e., Slovan Bratislava, VSZ Kosice, and Dukla Trencin.
Many Slovaks played for the Czechoslovak national team, e.g., Jan Trojak won gold at the 1947 World Championship. Vladimir Dzurilla, Rudolf Tajcnar, and Julius Haas were some of the stars of the gold 1972 World Championship team.
After the separation of the Czech and Slovak Federal Republic in 1993, it was decided that the newly formed Czech Republic would stay in the elite world group. Slovakia, however would have to travel from lower tiers back to the top. They won the World Championship Group C in 1994, and one year later Group B as well, therefore securing advancement to Group A. Slovakia once again performed among the top hockey nations in Vienna in 1996 where they came tenth. It was to be the worst finish of a Slovak national team at the World Championships and they improved greatly over the following years, even winning three medals. The Slovaks lost to their former partners the Czech Republic in the final game in St. Petersburg in 2000, while in 2002 they played an exciting final against Russia which Peter Bondra decided with an unforgettable shot. In Finland, in 2003, the Slovaks also took home a medal – this time beating the Czech Republic to win the bronze.
Slovakia had its premiere at the Olympic Games in 1994 and came sixth, in Nagano four years later and also in Salt Lake City in 2002 the Slovaks weren't very successful. Czechoslovakia though took home Olympic medals in the 1960's when the Slovak goalie Dzurilla and the forward Golonka were stable members of the national team. A hockey Olympic medal was also brought home from St. Moritz by Jan Trojak in 1948.
These days, hockey is a number one sport in Slovakia. There are many young talented players who can easily assert themselves in top foreign leagues. The Slovak U18 and U20 teams have successfully fought for medals at World Championships. The U20 team achieved a historic bronze in Winnipeg in 1999. Many Slovak players are key personalities on NHL teams – i. e., Peter Bondra, Marian Gaborik, Jozef Stumpel, Zigmund Palffy, Marian Hossa, Pavol Demitra, Richard Zednik, and Michal Handzus. The Slovak national team had a problem in the past to find a good goalie but Jan Lasak of the Nashville Predators has been in top form for important international games in recent years.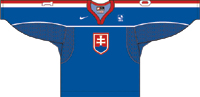 WEB SITE
www.hokej.sk
STATS
You can find the results and the calendar of 2003/04 season HERE
MEDALS
World Championships
Gold: 7 – (as Czechoslovakia) 1947, 1949, 1972, 1976, 1977, 1985, (as Slovakia) 2002.
Silver: 13 – (as Czechoslovakia), 1948, 1961, 1965, 1966, 1968, 1971, 1974, 1975, 1978, 1979, 1982, 1983, (as Slovakia) 2000.
Bronze: – 16 (as Czechoslovakia), 1920, 1933, 1938, 1955, 1957, 1959, 1963, 1964, 1969, 1970, 1973, 1981, 1987, 1989, 1990, (as Slovakia) 2003.
Olympic Games
Gold: –
Silver: 4 – (as Czechoslovakia) 1948 (St. Moritz), 1968 (Grenoble), 1976 (Innsbruck), 1984 (Sarajevo).
Bronze: 4 – (as Czechoslovakia) 1920 (Antwerp), 1964 (Innsbruck), 1972 (Sapporo), 1992 (Albertville)
PLAYERS
Top stars: Vladimír Dzurilla, Dusan Pasek, Darius Rusnak, Anton Stastny, Marian Stastny, Peter Stastny, Zigmund Palffy, Peter Bondra, Igor Liba, Miroslav Satan, Jozef Golonka.
2002 World Champions – Sweden (Gothenburg, Jonkoping)
Goalies: Jan Lasak, Rastislav Stana, Miroslav Šimonovic.
Defense: Radoslav Hecl, Jergus Baca, Martin Strbak, Peter Smrek, Dusan Milo, Lubomir Visnovsky, Richard Lintner, Ladislav Cierny.
Forwards: Peter Bondra, Jozef Stupmel, Vladimir Orszagh, Miroslav Satan, Rastislav Pavlikovsky, Radovan Somik, Lubomír Bartecko, Zigmund Palffy, Michal Handzus, Ladislav Nagy, Miroslav Hlinka, Peter Pucher, Robert Petrovicky, Robert Tomik, Marek Uram.
Coaches: Jan Filc, Ernest Bokros, Vladimir Stastny.