HISTORY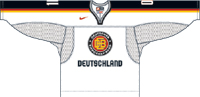 Germany is one of the first European countries where hockey was played. The first official game took place on Halensee Lake in Berlin on 4 February 1887. On that day, Academic Sport Club Berlin met a team made up of students and the result was a score of 11-4. The first real hockey clubs were founded at the beginning of the 20th century. The club in Berlin was established in 1901, and was followed by Dresden, Hamburg, Bremen, Munich, Königsberg, Heidelberg, Mannheim, and Wiesbaden. Hockey was accepted as a member sport of the German Sports Association in 1908 and Germany was the sixth country to join the International Ice Hockey Association (LIHG) on 19 September 1909. The national team of Germany went for their first international tournament one year later and came second after England at the European Championship in Les Avants/Montreaux. The next European Championship was held in Germany and the Czechoslovaks took the gold medal.
The first year of the German domestic league was in 1912 and Berliner Schlittschuhclub were the winners. In 1930, Germany won their first European gold at home in Berlin.Germany achieved the same success four years later in Milan, and the Germans began also to collect medals at world tournaments. In 1930, the German national team won silver medals at the World Championship. Two years later they took bronze at the Olympic Games in Lake Placid and another bronze in Milan at the World Championships in 1934. But then World War II interrupted the growth of hockey. There was no German championship held in 1942, 1943, 1945, and 1946, although the club SC Riesersee became German champion in 1947.
Germany was then divided into two separate countries. In East Germany, sports other than hockey were favoured, e.g., swimming or athletics. Only two teams in East Germany had a good chance to win the elite league title – Dynamo Berlin and Dynamo Weisswasser. The East German national team wasn't one of Europe's best and didn't have any great successes. In West Germany the situation was much better. They won a silver medal at the World Championship in 1953 but in the end only four countries finished that tournament. West Germany was the organizer of the World Championship several times although it swung between Group A and Group B of the championship.
The strength of German hockey on the international stage has been obvious and many German companies co-operate with the International Ice Hockey Federation. In 1975, Günther Sabetzki was elected IIHF president and was in the position for nineteen years. The German Hall of Fame at the Hockey Museum in Augsburg contains the names of about 150 players, as well as administrators, coaches, referees and even journalists. Germany is still waiting for a big international success however. They sometimes take advantage of the wonderful atmosphere generating when playing at home and turn in a good performance against the favourites, but then usually aren't able to repeat their good results against outsiders.
Some hockey experts don't seem to see an optimistic future for German hockey. In their top league many foreigners have been playing as of late – German clubs have bought a lot of overseas players who play a simple, hard brand of Canadian-style hockey. It is attractive for the German spectators but perhaps is not so positive for the progress of hockey in Germany.
The German U18 team won silver at the European Championship in 1995 and this seemed to point to a good future. But the German senior team dropped out of the elite world group three years later and interest in hockey waned. The Germans may not have been so successful for awhile, but then they organized the 2001 World Championship and played well there.
The German national team was also successful at the Winter Olympic Games in Salt Lake City in 2002 where they defeated Slovakia, Latvia, and Austria, and played in the quarter-finals. A final fifth place ranking together with the Czech Republic, Sweden, and Finland was a fairly big surprise for everybody.
And what will be the future of German hockey? The good German economy is a big advantage for the sport's development but then again, development could also be stalled by short-sighted policies.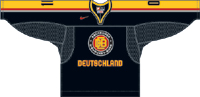 WEB SITE
www.deb-online.de (Official web sites of the German ice hockey federation)
STATS
You can find the results and the calendar of 2003/04 season HERE
MEDALS
World Championships
Gold: -
Silver: 2 – 1930, 1953.
Bronze: 2 – 1932, 1934.
Olympic Games
Gold: -
Silver: -
Bronze: 2 – 1932 Lake Placid, 1976 Innsbruck
PLAYERS
Top stars: Erich Kuhnhackl, Uwe Krupp, Olaf Kolzig, Helmut de Raaf, Dieter Hegen, Udo Kiessling, Xaver Unsinn.
Best NHL players, 2002-2003
Olaf Kolzig (Washington Capitals) goalie, 66 games, save percentage 91.9%, GAA 2.40.
Marco Sturm (San Jose Sharks) 82 games, 28 goals, 20 assists.
Jochen Hecht (Buffalo Sabres) 49 games, 10 goals, 16 assists.
Dennis Seidenberg (Philadelphia Flyers) 58 games, 4 goals, 9 assists.
Uwe Krupp (Atlanta Trashers) 4 games.
Bronze Medal team at the 1976 Olympic Games (Innsbruck)
Goalies: Weishaupt, Kehle.
Defense: Berndaner, Kiessling, Metz, Auhuber, Thanner, Volk.
Forwards: Kopf, Kuhnhackl, Funk, M. Hinterstocker, Schloder, Phillipp, Koberle, Boos, F. Vozar, Reindl.
Head Coach: Xaver Unsinn.